RCA 0.7 cu ft Mini Microwave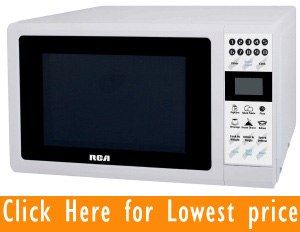 The RCA RMW742 0.7 Cubic Feet Microwave Oven is a hidden gem in the world of microwave ovens. The simple, yet useful design and features work to create a non-expensive but effective microwave that very rarely receives complaints because of unreliability.
The size of the microwave makes it a perfect option for people who live in small apartments and don't have much room for large appliances.
The small size may also make it a good microwave to take traveling with you if you have a truck or large enough vehicle, even taking it on vacation would be a good use.
Product Details –
Effective Child Safety Lock
6 Automatic One Touch Settings for Different Types of Food
Digital Clock and Timer
Weight Defrost Feature
10 Different Adjustable Power Levels
The auto cook settings available can select a time and power level specifically for the item you are using with the microwave. A good use for these features is to heat up your drinks. Some people may not have any idea about power level and timing to heat up a drink but the machine will know and your coffee or tea will be good as knew once the microwave is done with it. For old fashioned people who like to set the time and power themselves, you can. The 10 power levels available mean you can tailor the microwave to work exactly how you want it to.
In summary the RCA RMW742 0.7 Cubic Feet Microwave Oven is a good choice for a compact, reliable microwave oven that is versatile enough to be taken with you wherever you travel. The product has useful auto cook settings and an excellent defrosting feature that some microwaves in this day and age still lack. This must be considered as it provides great quality for the amount of money you have to pay for it.